A Networking app for new hires
A networking feature
This people-driven concept is proposed as an embedded feature in Mapiq's office productivity app Now.
Interest-based matching
Users complete their profile to allow the system to identify colleagues with matching interests.
Suggestion-based meetups
In a calendar view, the system suggests occasions to meet colleagues with matching interests.
Context
My 2017-2018 master's thesis in collaboration with smart-building software company Mapiq.
Research Question
How can well-being at work be effectively enhanced with smart-building technologies?
Background
Well-being at work has become a hot topic. Many workplaces are striving to achieve it, and there even exist well-being certifications. Seeking well-being is also a passion of mine, so I decided to make it the focus of my master's thesis project. A successful project, of course takes more than one party, so I was lucky to work with excellent academic advisors and enthusiastic industry partner Mapiq, a company that develops user-friendly software for people who work in smart-offices.
What goes into well-being at work?
To kick things off, I needed to wrap my head around well-being. What goes into it? How is it different from wellness? How does it apply at work? Drawing on existing research, I adopted a framework for well-being at work.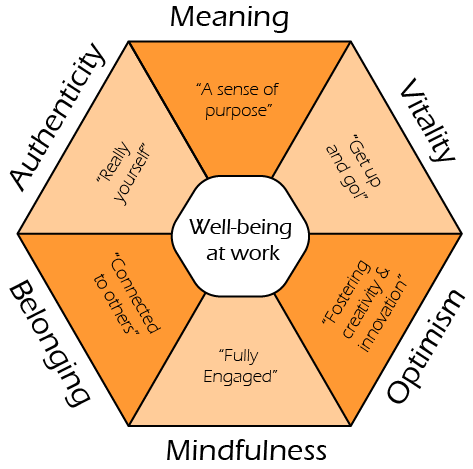 Six distinct elements influence well-being at work.
Evaluating the Well-being framework in Practice
Now that I had a framework for well-being at work, I needed to find out which factors in the workplace have the greatest influence on the well-being. I investigated this question through a powerful generative research method: contextmapping. I found that workplace relationships are the factor that has the broadest impact on well-being at work.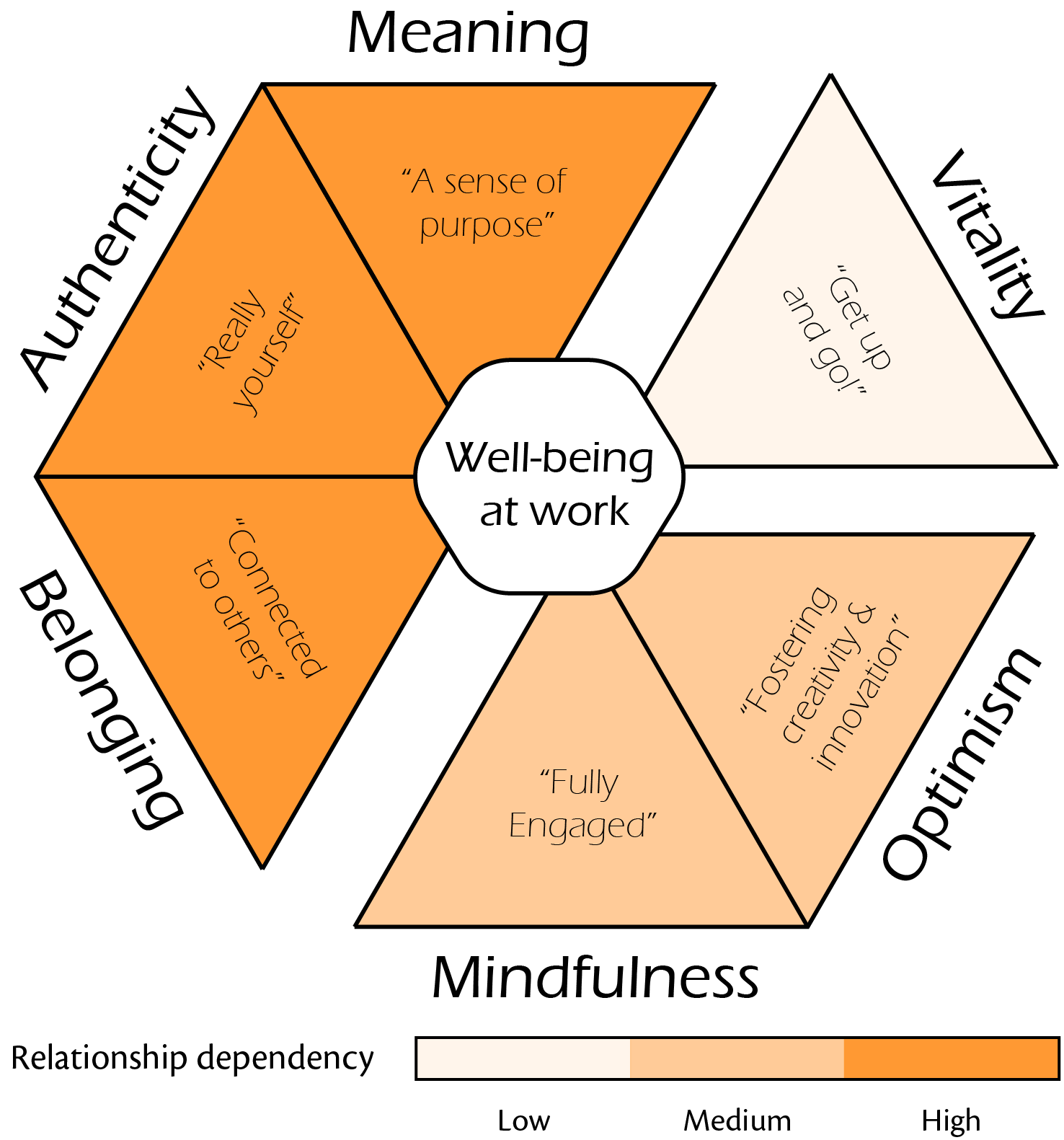 Relationships have the broadest impact on well-being at work.
- Primary research findings
What workplace relationships are good for well-being?
Through further literature and contextmapping research, I explored the breadth of relationships that exist at work. My analysis led me to map out a set of workplace relationships that support well-being.
Building good relationships with technology
Knowing what kind of workplace relationships boost well-being, I explored how Mapiq's technology could be applied to help build these relationships. Different ideas came to my mind, such as creating a digital puzzle, where each piece could be collected by meeting a new person.
Connecting Passion-Sharers and Buddies-at-work
As I explored the options, I found the most promise in an idea for connecting co-workers with shared professional and out-of-work interests. These shared interests form the basis for Passion-Sharer and Buddy-at-Work relationships, which are two types of workplace relationships that boost well-being.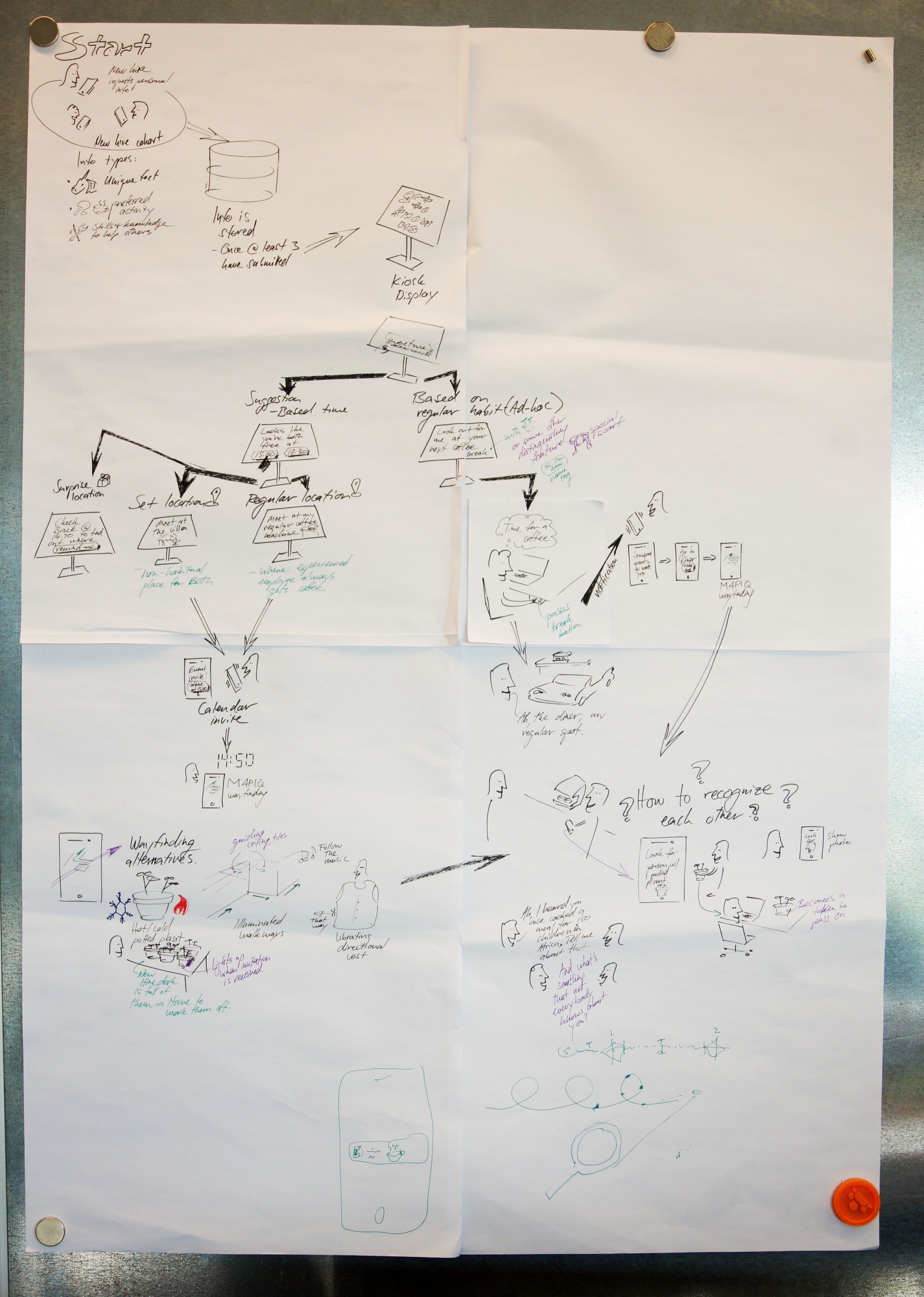 Matching on shared interests
An architecture for connecting people at work
Focus on New hires
To ensure my design would be of high value, I needed to find a specific application. Thinking back on my own work experience, I realized that building good relationships is especially important for new hires. I imagined a scenario relevant to Mapiq's clients, and went about wireframing a concept.
Creating occasions for new hires to make meaningful connections
My concept for a smartphone application
Evaluating the concept with Paper Prototyping
To test the assumptions of my concept, I made and tested a paper prototype. I learned that people are readily willing to share their professional and personal interests in a mobile app. Most importantly, they saw the value in connecting with new coworkers with the app.
Integrating the design with mapiq
Mapiq's vision is to be the go-to resource for smart-office workers to get the most out of their workplace. Correspondingly, Mapiq has developed a user-friendly smartphone app Mapiq Now. The app gives office workers a central place to complete a range of tasks, including booking conference rooms, controlling lights, and finding colleagues. Mapiq Now holds great potential to be even more useful for office workers, so I designed my Occasions concept as a feature within the application.
Mapiq now screenshots
My design as a Mapiq Now feature
A highly-regarded project - CUm laude
This project formed the capstone of my graduate studies at TU Delft, granting me an MSc in Strategic Product Design with cum laude distinction. Furthermore, the project enabled me to develop my passion for workplace well-being into an expertise. I'm eager to apply it now. So get in touch, and let's boost well-being in the workplace!
Team
Pictured above from left to right: Rebecca Price, Tomasz Jaskiewicz, Tobias Froehlich, Anne Wernand, Bouwe dePlanque
Download thesis
Fill out this form for a complementary copy of my thesis (7MB PDF).